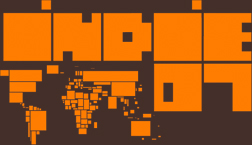 INDIE BRAZIL

A story may be known by its details. It may be told by people who live next to railways in Descaminhos; by bell ringers in Entoados; by the guardians of culture in O Caminho dos Homens; or by children and their houses in Ó, de Casa!; movies that present us with documents of cities, of people and of rural culture. To travel and to move, whether in the long roads of Minas that never end, in Acidente, in the experience of travelers who never rest, in Andarilho, or in an antithesis within the urban Sao Paulo traffic and the time Handerson e As Horas. Or still in the fantastic stories of a private world, in Jardelina da Silva: Eu Mesma. To these nine documentaries are added a very special program including five works of art made under the support of Itau Cultural in the program Rumos.
Indie Brasil is only complete when we add two movies by two moviemakers that are newcomers in fiction, after having done documentaries. Chico Teixeira, from Sao Paulo, presents the real and common life of a woman in A Casa de Alice. Sandra Kogut, from Rio de Janeiro, opens Indie 2007 with Mutum, an adaptation of one of the most important books written by a myth of Brazilian literature, Guimarães Rosa, from the state of Minas Gerais. Brazilian cinema is here; it is alive, intimate, seeking a huge world immersed in little true or imaginary stories. (D.A)

SPECIAL RUMOS ITAU CULTURAL

The 'Cinco Sobre Cinco Documentarios' series is organized by the Institute Itaú Cultural; it is the result of the 5th edition of the program Rumos Cinema e Vídeo presenting movies by André Costa, Camilo Cavalcante and Cláudio Assis, Maya Da-Rin and Miriam Chnaiderman, and themes such as cities, childhood, frontiers of the Amazon, migration and memory, all in images forming a kaleidoscope of contemporary Brazilian. A special award was given in this edition to Diário de Sintra, by Paula Gaitán, which was done based on personal recording about the daily life of the moviemaker Glauber Rocha in the Portuguese city where he lived with his wife Paula Gaitán and his two children Eryk Rocha and Ava Rocha during 1981, close to his death.